READ my interview below, SHARE this post to support me, and DONATE TO MY CAUSE!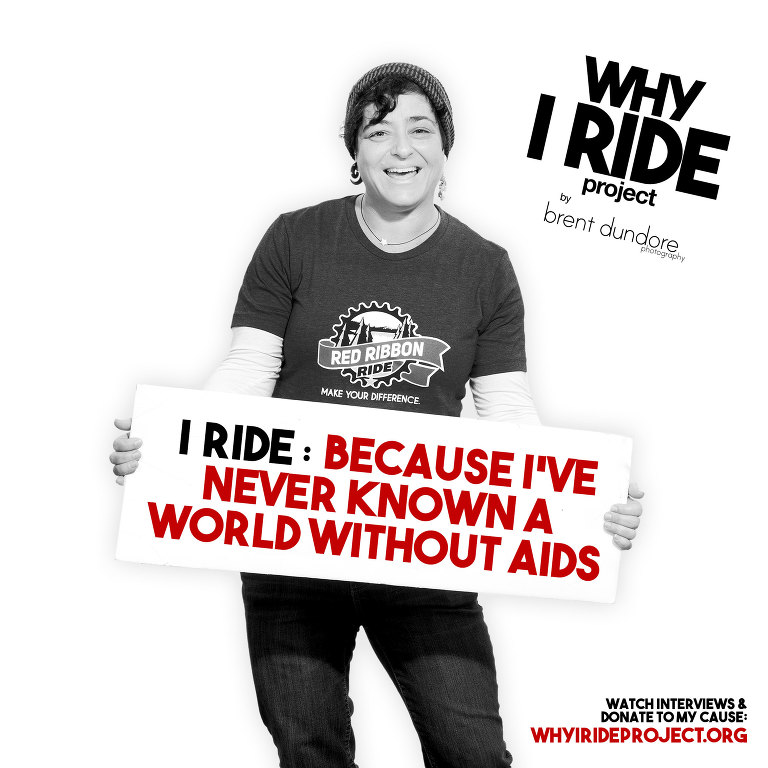 "I ride because I've never known a world without AIDS."
Marni Zimlin (Executive Director) – This is my 3rd year participating in the Red Ribbon Ride.
Why do you Red Ribbon Ride? I ride for many reasons. I ride in memory of my late Uncle Fred who died of AIDS related complications in 1994. I ride for those we have lost. I ride for those who cannot. I ride because I have never known a world without HIV/AIDS. For those who need help, for those who are at risk, to eliminate stigma, because I have never known a world without AIDS… The list goes on. At the core of why I do this is my late Uncle Fred, who died of AIDS related complications in 1994. Losing my Uncle filled me with sorrow. Such a beautiful man gone from this planet along with so many others due to this disease seems so wrong.
What is your favorite thing about the Red Ribbon Ride? My favorite part about the Red Ribbon Ride is the community. There is nothing like coming together with a group of people who have all come to the Ride for different reasons, raising money, training hard, volunteering hard all for a common cause. Every Rider and Crew member has a story, they may be here because they know someone living with HIV/AIDS, have lost someone, want to help the benefiting organizations or just want the challenge of riding a bike for 300 miles. No matter why people come to do the Ride when everyone is together it's magic. There is nothing more powerful then being in a room filled with people who come together for a common goal and make a difference in their community. It's an incredible group of people to know.
How were you introduced to Red Ribbon Ride? I learned about the Ride through my work at AIDS/LifeCycle. A similar ride in California. I had all the participants in Minnesota so they proudly told me about Red Ribbon Ride. I was excited to be a part of it for the first time last year.
What is one great memory you can share from your ride/crew experience in the past? One great memory from last year was standing before this amazing group of people on the steps of the State Capitol and celebrating their achievements. It was an inspiring moment for me to see the community together and to be welcomed to the Red Ribbon Ride family.
What do you do away from the Red Ribbon Ride?  Red Ribbon Ride is my work. So while I am away from work I ride bikes of course! I also enjoy spending time with my family, going to the gym, camping, hiking, and taking things easy.
What would you tell someone who is on the fence about joining our ride next year? If there isn't a challenge, whether that is the training, riding a bike, fundraising or even camping, it wouldn't be the experience of a lifetime. It's about Loving every mile you ride, not riding every mile. When you accomplish something you don't think you can do you realize there is a lot more in the world that is achievable. You can do this. It's just like riding a bicycle!
What person or group of people are you hoping to bring to the ride this next year? I want to help create a welcoming, safe and diverse space for everyone to join us.
What is your fundraising goal this year? What creative ways are you going to achieve that goal? My fundraising goal is to help all of our Riders go above and beyond what they think is possible as far as their fundraising goal. I want to also help our Crew who choose to fundraise in the same way. The best way to reach your fundraising goal is to set a higher goal, ask your potential donors for donations directly and follow up with everyone. The real important part of fundraising is the Thank You at the end. So Thank You for doing the Ride in advance.
Is there anything else you'd like to say to our Red Ribbon Ride community? Ride your bike. Ask everyone you know to support you with a donation. Discover why you Red Ribbon Ride! If you haven't registered for 2016 go ahead, join us! We would love to see you in July!!!