READ my interview below, SHARE this post to support me, and DONATE TO MY CAUSE!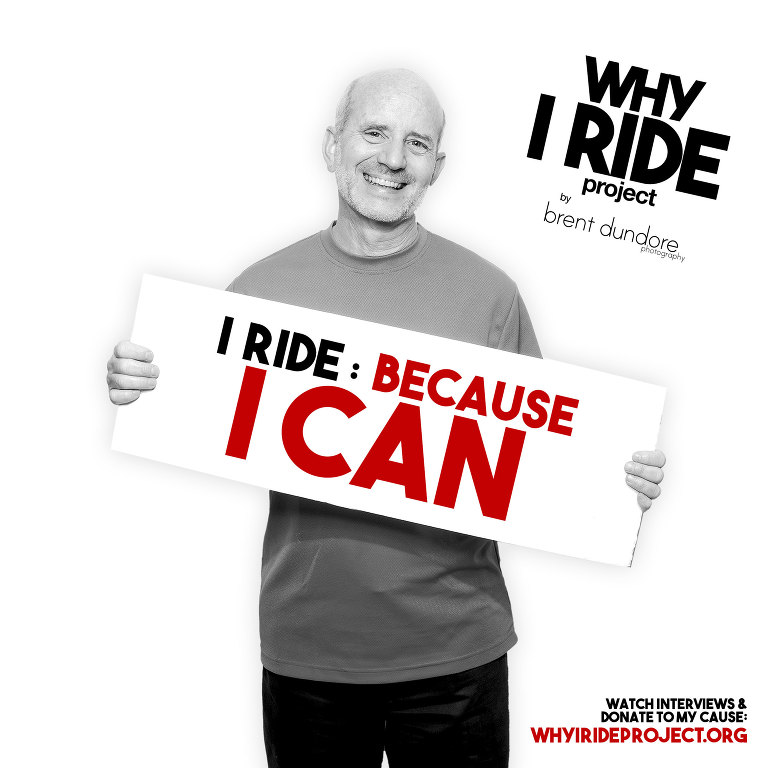 "I Ride because I can." 
Harvey Zuckman, Age 65, 14th time Rider (and crew) 
Why do you Red Ribbon Ride? My reasons for riding have changed over the years, but at its core is always that I can help others while doing something good for myself. When I did my first ride at age 52, I thought I'd better do it then, before I got to old to ride. I feel younger now that I did 14 years ago!
What is your favorite thing about the Red Ribbon Ride? Every time I ride, at some point along the Ride I spontaneously break into tears. I never know when that will happen – it always takes me by surprise.
What do you do away from the Red Ribbon Ride? I retired in 2014, but have been very busy with a variety of volunteer activities. Most of my volunteer time has been in supporting, advocating and promoting locally owned, independent businesses. They are the lifeblood of any local economy.
How were you introduced to Red Ribbon Ride? I had friends who rode in the first couple rides to Chicago and I promised that I would do that some day. When that ride ended, after breathing a sigh of relief, I saw a poster for the Red Ribbon Ride at the Uptown YWCA. At that point, I realized that the only thing getting in my way was that I needed to register. I registered and now re-register for the next year while still on the Ride.
What is one great memory you can share from your ride/crew experience in the past? One year, Ryan White's mother, Jeannie White-Ginder, came to speak to us about her son, Ryan White. The federal bill that bore his name was a turning point in the Federal government's response to HIV/AIDS. Sharing her's and Ryan's journey with us left an indelible mark on me that highlighted both how cruel people can be, but just as importantly, how people will rise to the occasion to provide needed support and consolation.
What would you tell someone who is on the fence about joining our ride next year? If you're on the fence, just take that first step and register. The Ride is about participating and doing what you can. It's not about how many miles you can ride, it's about participating and doing what you can. We need nearly as many crew and riders, so registering is the first step to having one of the the most memorable experience, meaningful experiences in your life.
What person or group of people are you hoping to bring to the ride this next year? Seeing the growth of Team Shalom has filled my soul with joy and gratitude. I am working hard to expand participation on Team Shalom more broadly in the Jewish community and we welcome anyone who wants to share our special team spirit.  I would love to see more of us start new teams rooted in our faith communities.
What is your fundraising goal this year? I try to set a goal that is high enough so that my donors see how their contribution will make an impact on reaching that goal – and then as I start to get close (or exceed) that goal, I raise it to the next level. My initial goal this year is $5,000. I do 99% of my fundraising via email and Facebook requests, framed as updates of my progress along the way, rather than direct asks. I simply offer it as an opportunity and never make assumptions about who will want to support this event. I have often gotten the most generous donations from people I might have left off my solicitation.
Is there anything else you'd like to say to our Red Ribbon Ride community? From the start of this epidemic, I kept a list of all the people I knew who died from AIDS, so that I could be sure to not forget them. I reached 100 when two of my closest friends died in the early 90s. Fortunately, few people I knew have died of AIDS since then, but many more are living with HIV. Since 2003, has become a central part of my community. We are all focused on the same goal and relish in supporting each other in that quest.
READ my interview below, SHARE this post to support me, and DONATE TO MY CAUSE!