READ my interview below, SHARE this post to support me, and DONATE TO MY CAUSE!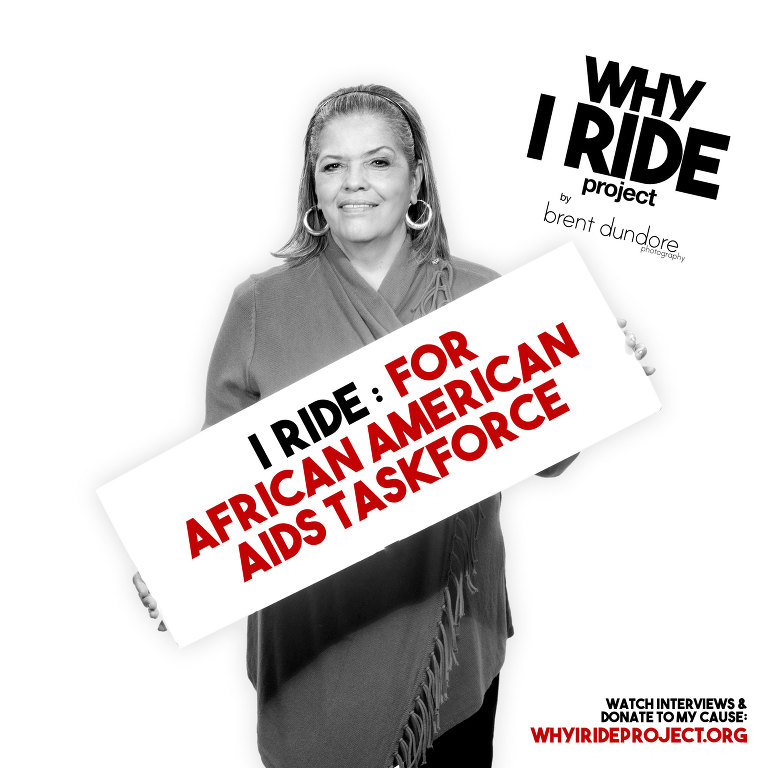 "I crew for African American AIDS Taskforce."
Gwen Velez (Executive Director – African American AIDS Taskforce) 
This is my 15th year participating.
Why do you Red Ribbon Ride? I crew to reduce stigma, and promote healthier communities through awareness & education in support of people living with HIV/AIDS.
What do you do away from the Red Ribbon Ride?For work, I am the executive director of the African American AIDS Task Force.  Personally, I enjoy spend time with family & friends, gardening, reading, volunteering, traveling (latest trip was to Cuba), cooking, beadwork, and pottery.  In general I am very project oriented and love to create, give me a good project and "I'm in"!
What is your favorite thing about the Red Ribbon Ride? The sense of community created by the event, it's always a joy to be in company of others with a common cause and purpose.
How were you introduced to Red Ribbon Ride? AAATF is one of eight founding members of Minnesota Fighting AIDS on Bikes which features the Red Ribbon Ride as its signature event.
What is one great memory you can share from your ride/crew experience in the past? Honestly there are so many, but one of my all time favorite experiences on the ride is always "the Last BIG Hill" going into Rochester on day two (2) of the southern Minnesota route.  There is always a lot of excitement building as riders near the last big hill as word travels throughout the entire RRR to start heading for the hill to support riders.  We call it a hill some would call it a mountain, in any case it is one of the most challenging points on the ride for riders.  Once the work goes out, Crew, Volunteers, Staff, and Riders (who have already conquered the hill) line up on both sides of the hill to provide support and encouragement to in coming riders as they begin their journey up the hill.  As Riders struggle up the hill there is a slew of onlookers cheering them on, running up the hill with them side by side, spraying water to cool them off, playing music, dancing, waving pompoms and streamers to encouraged already fatigued Riders.  Many times you see Riders STOP when they approach the hill in anticipation of what comes next.  For me this experience is always heartwarmingly beautiful and emotional, and where the RRR family comes together to provide the greatest amount of support to one another as a whole, a magnificent site to behold!
What would you tell someone who is on the fence about joining our ride next year? I would tell them that the RRR is an amazing experience and opportunity to be part of a compassionate and caring community that is making a difference in the lives of people living with HIV/AIDS. And that this experience also changes us in way that we never imagined and that they should experience it for themselves and that once they've done it, they will be hooked on the ride!
What person or group of people are you hoping to bring to the ride this next year? Team African American AIDS Task Force
What is your fundraising goal this year? My personal fundraising goal as a crew member is $2,500 – $3,000.
Is there anything else you'd like to say to our Red Ribbon Ride community? As an HIV Service Provider and Beneficiary of the ride I would like to say "thank you."  The dollars that you raise through your donations and participation in the event are life saving, and truly do make a difference in the lives and health outcomes of people living with HIV/AIDS.  Equally important is the visual message created on the ride by a stream of riders, crew and volunteers moving through the various towns and cities of Minnesota along our route to promote HIV awareness.